Greetings
Under the theory of better late than never, here is concluding Part 3 of the summer trip to central Europe that included Vienna to Salzburg to Munich to Prague.
Ended Part 2 with the daytrip out to the Bavarian countryside via a wonderful tour with Mario from Pure Bavaria Tours. Called rather last minute and was lucky he had opening for 3 in his 8 passenger van.
He explained how the small farms were managed in the traditional ways – what we would call organic. I also noticed something pretty amazing – the proliferation of solar panels everywhere – on wood sheds, on barns, on old farm houses – seemingly on whatever angled roof surface that faced south. Turns out that Germany gets like 30% of their electricity from solar power. Not bad for a country that actually sits pretty far north - basically straddling the 50th parallel north latitude (yes – I am a geography geek).
It was on a Sunday, so on the way Neuschwanstein Castle, we stopped in a two small farm villages. Mario seemed to know everybody as we rolled thru town, and each had pretty amazing churches for small countryside towns. Mass was beginning at one of the churches – the ringing bells summoned the town elders from their gathering spot under the big tree.
Approaching the castle.
Yes this is the castle that was the inspiration for Disney.
Its one of those places that would awesome to visit at various times of the year (from the internet).
The palace was commissioned by the eccentric King Ludwig II of Bavaria as a retreat and as an homage to Wagner – he was a fanatic patron of the composer. The walls of Neuschwanstein are decorated with frescoes depicting scenes from the legends used in Wagner's operas. Ludwig slept only 11 nights in the partially completed castle before he died under mysterious circumstances in 1886. Six weeks later it was opened to the public (no photos allowed inside – below are from the internets).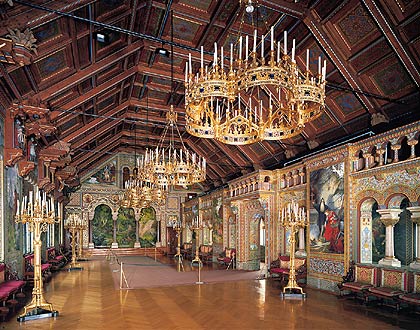 We are usually do-it-yourselfers, but it's nice being with a tour operator who knows the parking attendants, the ins and outs, best views etc.
On the way back from the castle we stopped at an organic cheese farm for a delightful late lunch. We were highly amused by this motion sensing rotating car wash brush attached to the barn that the cows can use to scratch themselves.
After a bit more time in Munich (see Part 2 for other photos), it was off via comfortable double decker bus to Prague.
Thanks to Rick Steves for clarifying that the 4.5 direct nonstop bus was a better option than a 6 hr train trip involving connections etc. We faced the challenge of trying to use up our Euros before getting to Prague, then getting some Koruna at the bus station for cab to hotel. We usually avoid doing that, but there wasn't any uncomplicated public transport options to the hotel where we were staying in old town right at the foot of the famous Charles Bridge. What a great location and nice hotel. Highly recommend.
http://www.archibald.cz/at-the-charles- ... el-prague/
Cool below street level restaurant where breakfast was served.
We had a nice dinner at their restaurant with the killer view (lame phone photo quality).
Prague was spared from WWII bombing and it lives up to its reputation as pretty cool place and a European must-see, although it now has the crowds that reflect - Prague ranked fifth in the Tripadvisor world list of best destinations in 2014. And the beer was just plain FANTASTIC (and cheaper than water in the pubs a few blocks off the main tourist drag).
The photo ops were pretty impressive, although I must say (grumpy old guy alert) that it kinda annoys me that with the proliferation of smart phones that EVERYBODY is now a photographer. Hey – get out of the way and stop clogging up the good vantage point! (…which I guess is the equivalent of "hey get off my lawn! LOL) Ah for the old days when it was only me and the Japanese making the effort to bring good gear and taking the time to compose decent images…but if you went out early or late, you deal way less with the selfie crowd.
The astronomical clock on the Old Town City Hall is pretty amazing. The clock was first installed in 1410, making it the third-oldest astronomical clock in the world and the oldest one still working. It shows the zodiac, phases of the moon, has a calendar, etc. A marvel of engineering for the 15th century.
We made an interesting decision to take a 3 hr segway tour. It was pretty intuitive to operate, but kinda crazy to be thrown in with the cobblestones, crowds, curbs, streetcars, etc. My wife was a bit overwhelmed at times and had a few minor mishaps - - we didn't get killed, so we are glad we did it
Photo bombed by the tour guide.
Eating was bit of a challenge in Prague as the girls do not eat red meat. We found a really good vegetarian restaurant though that we all enjoyed.
Fight back to JFK was via Zurich and was long but uneventful, which is good nowadays.
All in all, a very good trip and it was a great experience visiting many of the places we wanted to see in central Europe. For those handful of you here who might have been waiting for this last installment, thanks for your patience.