We were up a little later today. Last night was Cruzan Blackstrap and Coconut! Need I say more…? We had breakfast in and then we were ready for the beach. Today was Lamshure. When we got there a school group from STT was in full play mode, and they were having a great time. Boy, I wish my classes were that small! They were from the Montessori school which explained the small class.
We had forgotten to do the sunscreen thing earlier, so we applied and then walked up to the ruin while it dried. I don't know how many of you think of this, but we were thinking, "Hey if you put a roof on this thing I could live here happily!"
What a view!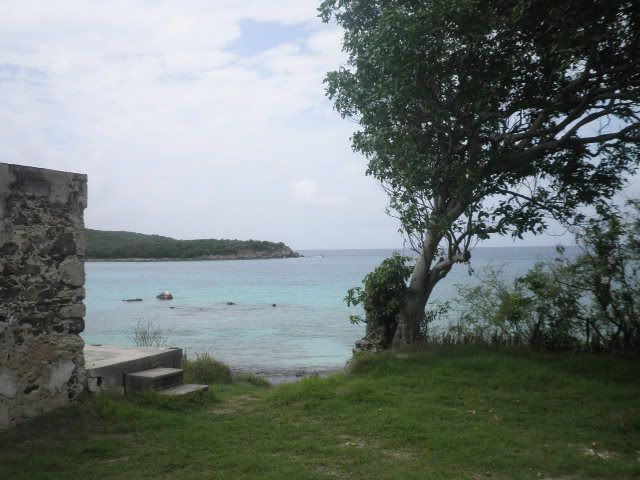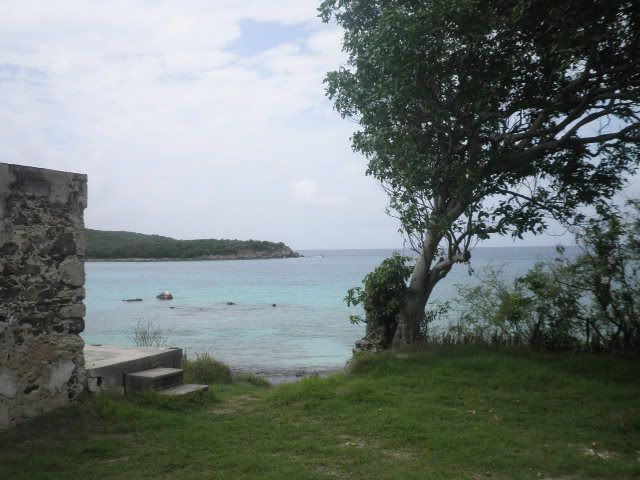 Anyway, when we got back to the beach we got our snorkel gear together and headed out to the reef on the left. The water was murky and I was disappointed to find little life on the rocks.
Other than a couple of pretty black and white striped angel fish, a small turtle and a remora (that decided I looked like a good ride), the rocks were fairly bare. We decided to try the open area in the bay and saw some sea stars and a huge conch. After the , you guessed it, nap on the beach and a little people watching we did a short snorkel to the right where we saw some more sea stars and a good many fish on the big rocks that were sticking out of the water. I had remembered this being a really good snorkel bay a couple of years back; I guess things in nature are constantly changing.
We started feeling hungry, so it was off to Skinny's for a burger.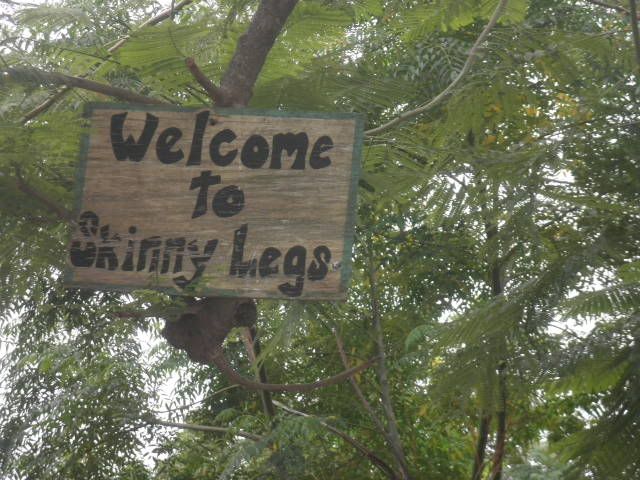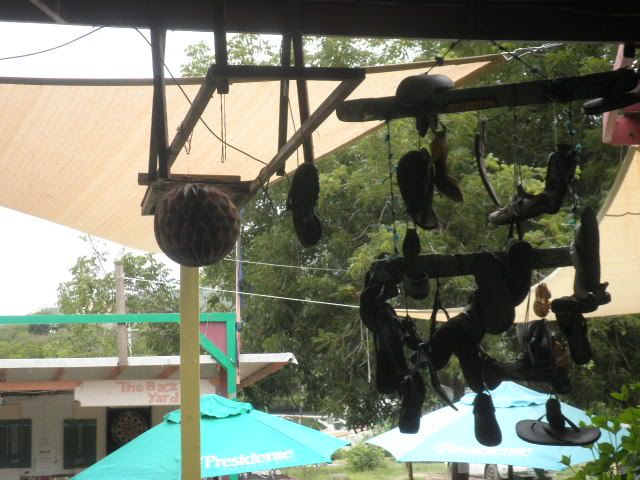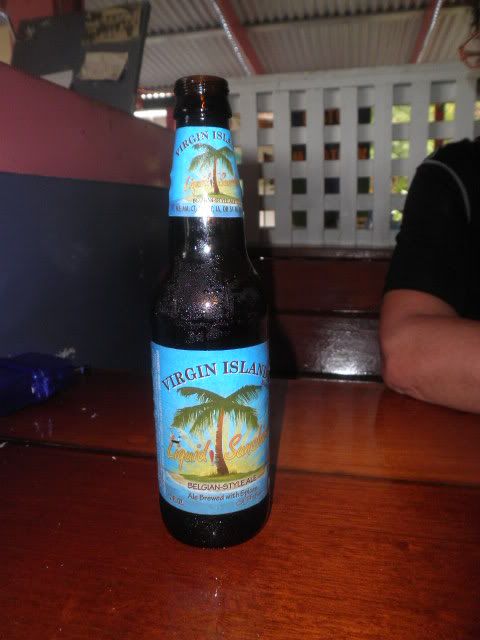 I had the special which was a cholesterol night mare, but it was so good.
They called it the Hawaiian burger, pineapple, bacon, and pepperoni on top. I justified eating it by saying "Hey, I don't eat like this at home".
The ice cream at the Tourist trap was calling so we backtracked to get some.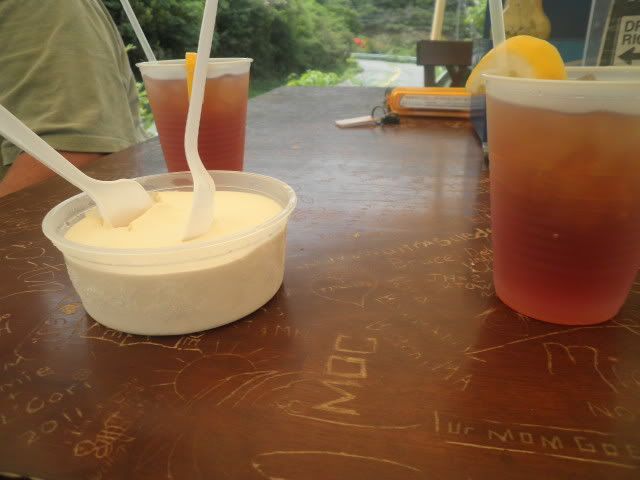 When we got there I saw a family with Penn State logos all over their hats and t-shirts. It was PSUfan and her family! We talked for a while, and I got so involved in conversation that I forgot to get a picture!
Mannnn! Maybe we will get to see them before they leave…. Hi PSUfan!!!!
Today we picked up 3 people needing a ride. One of them was a guy who had just gotten off of work at Miss Lucy's and two guys going from Coral Bay to Cruz Bay. I gathered that one guy was Haitian because all he knew how to say in English was "Cruz Bay", the third person was a guy from North Carolina and had been here two years. He was really nice and we talked about grand children. Funny how the subject of grand children always seems to come up.
We got back to CV1 cleaned up, took a little nap then just rode around. I love the drive along the North shore. We stopped at Maho to pick up info on the kayak rentals, looked at the shop, bought my favorite little sesame snack and then back to CV1. Supper was chicken salad with mango and sunflower seeds, round bread toast, and vanilla Greek yogurt with mango and cinnamon for desert.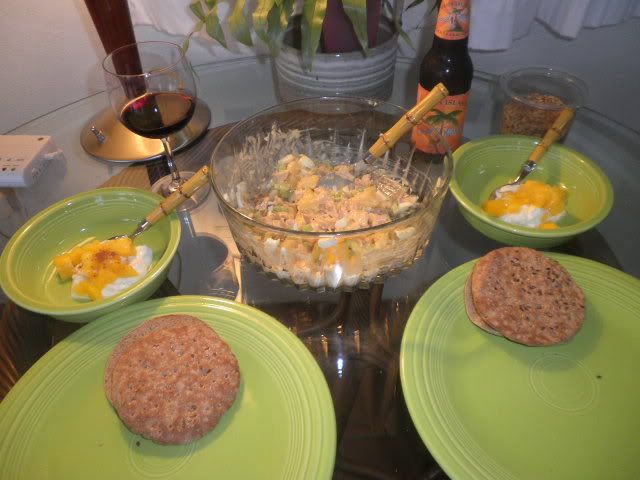 It all went so well with VI Tropical Mango Ale. Now for rum and sitting on the deck watching the car barges load up.
Going to try to attach links to this report.
http://www.virgin-islands-on-line.com/f ... hp?t=20835
http://www.virgin-islands-on-line.com/f ... hp?t=20838
http://www.virgin-islands-on-line.com/f ... hp?t=20840
http://www.virgin-islands-on-line.com/f ... hp?t=20860