This was the only day of the trip when we set an alarm. We had chartered a boat for the day. Thanks to some help from the forum we were going out with Lion in Da Sun. Woke up and had breakfast and had to meet Captain Josh at the National Park dock. Josh was very friendly from the start and asked what we wanted to do. Thanks to the forum I had already determined our itinerary for the day, the Baths, Willie T, and then the caves. We first headed to West End, Tortola to check customs. The night before they had a small fire and had to move things outside. Took a few minutes but gave us a chance to explore.
The family in the boat besides us was very friendly and we had a chance to talk to them for a moment. When I asked them where they were going the father told me they wanted to go to the Baths but their captain said the sea was to rough. He didn't ask about our plans and I didn't offer either. I asked Josh and he said that some captains will say that the sea is rough because they don't want to go that far. I thought that was interesting. Next we left for the Baths. The waves didn't seem too bad and we had a nice tour of Sir Francis Drake Channel.
My understanding is that most boats will pull into the baths and then it is a short swim in. Josh suggested that we pull into the port at Spanish town and take a taxi.
It only took about an extra 30 minutes. Including the 10 minute taxi ride.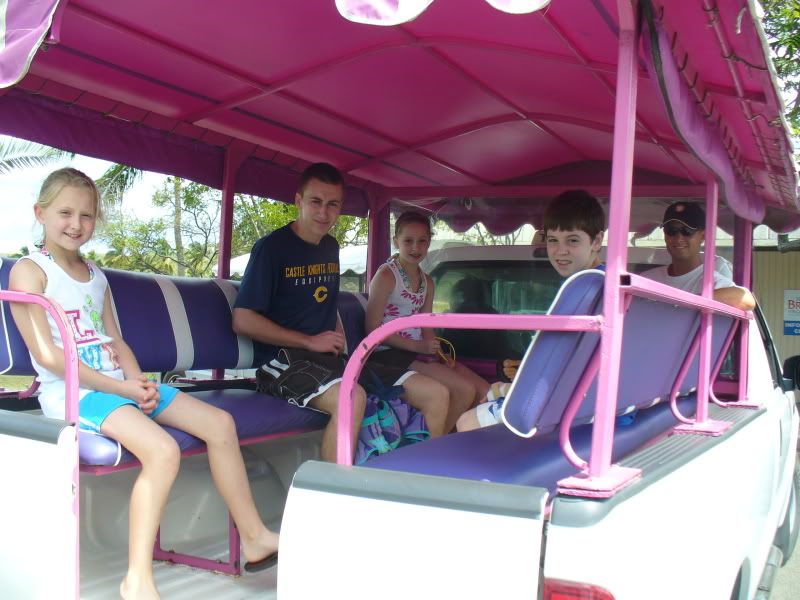 We actually enjoyed getting a chance to see more of Virgin Gorda and stopping at some of the shops. My wife found a Christmas ornament by Diane to add to our collection. The baths were amazing. I have done a lot of hiking and some traveling and the baths are maybe the most unique place I have ever seen.
Josh took us to some of the places in the Baths that most people don't see and many people couldn't fit. The kids loved following him as they cralled and spider walked through the boulders.
The end of the trail opens up to Devils Bay. It was a nice crescent shaped beach with some of the largest waves the kids had ever seen.
We stayed at the beach for about 30-45 minutes and headed back to the taxi. Again we didn't take the normal path. After a 10 minute taxi ride back we were headed towards Norman Island.. Along the way we passed the Lion in Da Sun.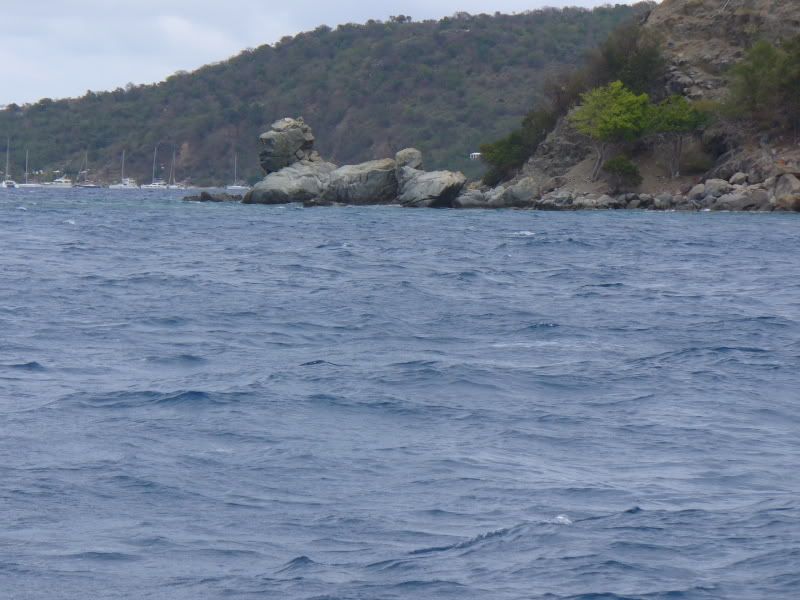 It was at Salt Island I think. The Willie T was next.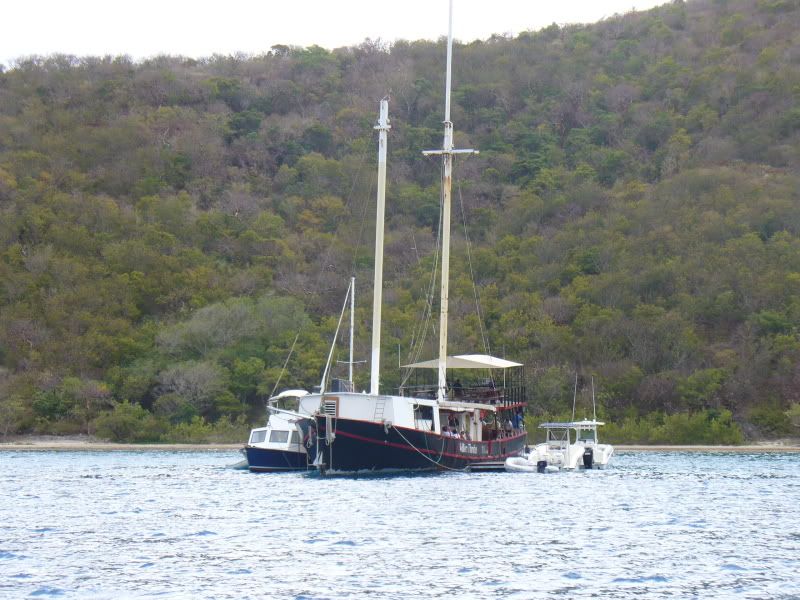 No food porn but I do have another picture of my kids.
I have never been to any of the other eating establishment in the area, like coopers Island and such but I have to tell you the Willie T is a must. Cool ship, Cool people, Great atmosphere and good food. It was our favorite meal of the week. After eating we headed to the caves. As we approached the caves we noticed a camera crew on one of the boats and then my wife said "looks it's the little people" . We had no idea what she was talking about until she said "You know the Roloffs". We thought that was neat. If you don't know, the Roloffs are a couple of "little people" who have their own show on the discovery channel. I think it is called "Little People Big World" They actually had three different camera crews including one in the water. We swam by the camera and waved. Look for us on TV next season. The caves were pretty cool.
Josh had a dive light and we were able to go to the end of all three caves. Not a lot of fish but something we are glad we did.
We left the caves and thought we were done, but Josh stopped at Booby Rock for 30-40 minutes. This was a small rock just west of Rams Head. It was the best snorkeling we did all week. We were the only people in the area. Again I thought we were done and headed back, but Josh had other plans. Josh had found out that my 12 year old was a Kenny Chesney fan so as we neared Cruz Bay he asked her if she wanted to see his house and he turned on a Kenny CD. We then went to Cannel Bay and he showed her were it was. This was the highlight of her trip. Thanks Josh.
We next headed back to Cruz Bay and went through customs. Feeling a bit fatigued we headed back to the Villa. We cleaned ourselves up but were to tired to fix supper , but the kids didn't want to go out so we tried Joes BBQ. It was fantastic. If you decide to go there they have no sign. They are located in Cruz Bay across from the post office. It was absolutely the best BBQ I have ever had. Needless to say we slept great that night.