~Livin' La Vida Lovango~
A bit of background: This was our 7th trip to St. John over the last 8 years. (yes we are truly blessed!)Mainly with family but now our 3rd trip for just the two of us! (highly recommended!)
Last fall we read about Lovango Cay & the Love Shack in the St. John magazine thinking how amazing it would be to live there! As I was doing my usual ultra-mega endless search for the perfect villa, I stumbled on a site that listed the Love Shack & cottage for rent!! I raced back to the magazine and stuck it in hubby's face and said, this is it!! Funny, that just days after that, the on-stjohn blog site featured a video all about it! I quickly emailed to see if the beach cottage was available! It was, but we had to wait till 2 weeks before our trip to see if the Love Shack main house was going to rent first. If it did not, then we could have the cottage to ourselves. Since October is super low season I had a back-up list of villas on STJ that were available so we crossed our fingers and hoped for the best! Good news: Lovango Cay, here we come!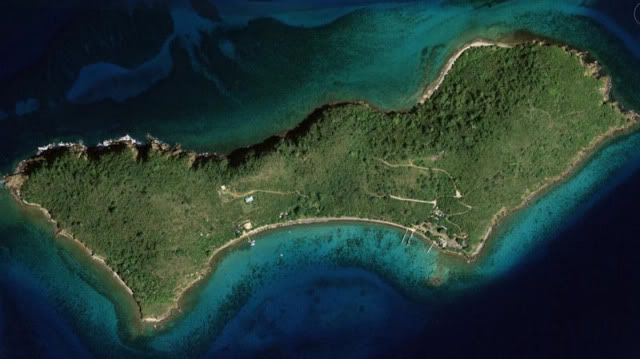 *** Oh, btw, I just heard they are dropping the "wait till 2 weeks before the trip rule", so now you can book the cottage anytime!!***
Oct 1~ Travel Day!
I'll spare you the boredom getting there but made it right on time into St. Thomas with Rachel Taxi waiting for us to load up our 1 carry-on suitcase and 1 carry-on cooler full of frozen steak, shrimp, and other tasty treats for the week! She told us great stories along the way and could not believe that the 46 years she has lived on STT, she has NEVER been to St. John!! WOW! Too scared to get on a boat or ferry but she can maneuver her van all over the crazy roads of St. Thomas every day. I don't get it! Anyway we made it to the American Yacht Harbor near Red Hook in record time to meet our Lovango island hosts for the week, Dan & Marcy Boyd (yes, the same Marcy that manages the Cloud Nine Villas that we stayed at 2 years ago so we didn't know we already knew each other!)
After a quick stop at Marina Market for some island beverages we loaded the boat for Lovango Cay! OMG! I can't believe we really made it!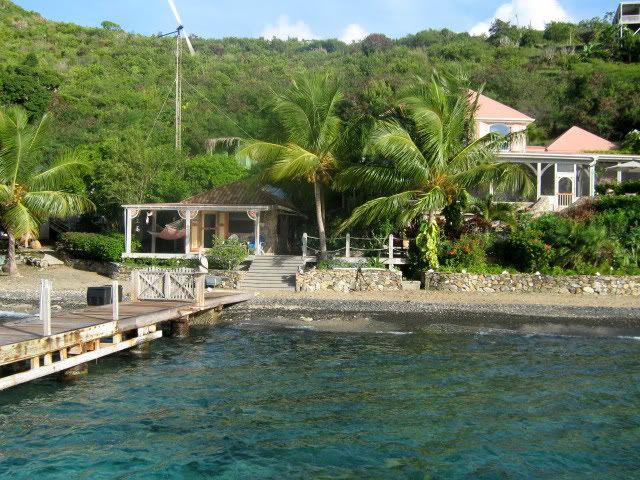 Marcy showed us around.
The front porch with awesome views of St. John!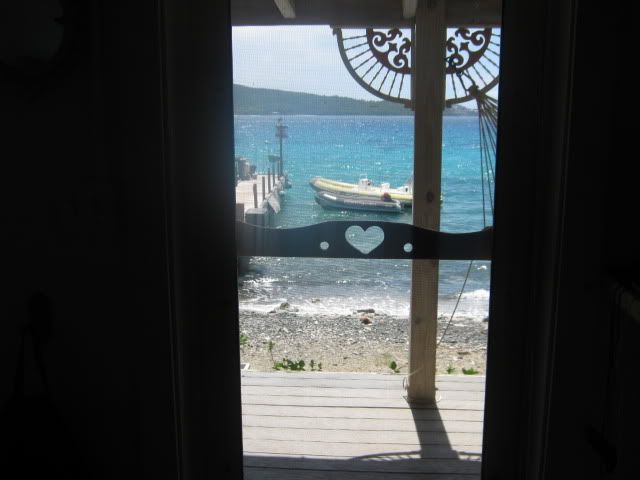 Looking out the cottage door!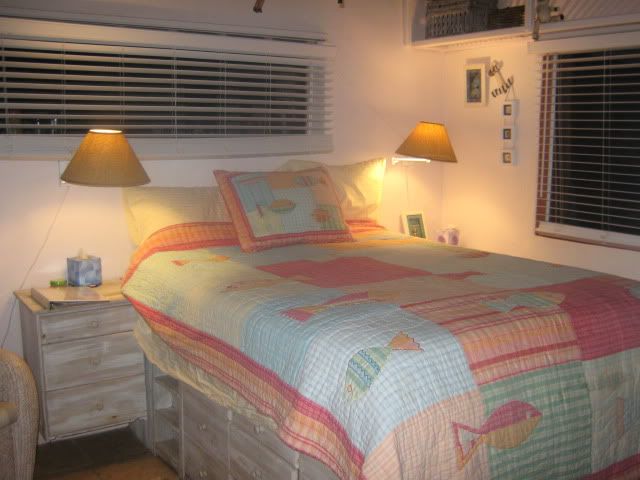 ~Comfy cottage bedroom~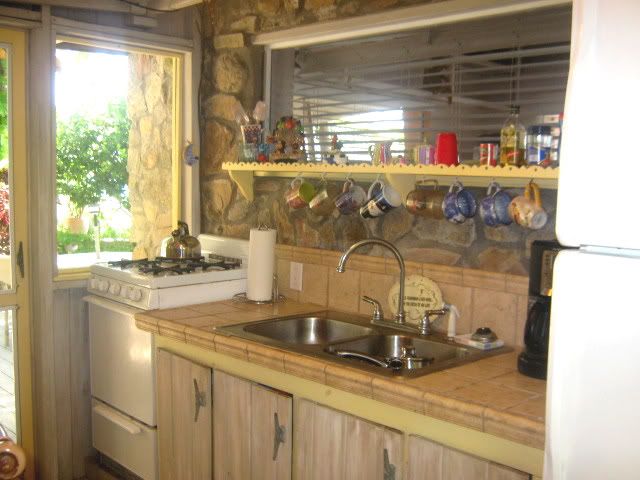 ~Screened in kitchen~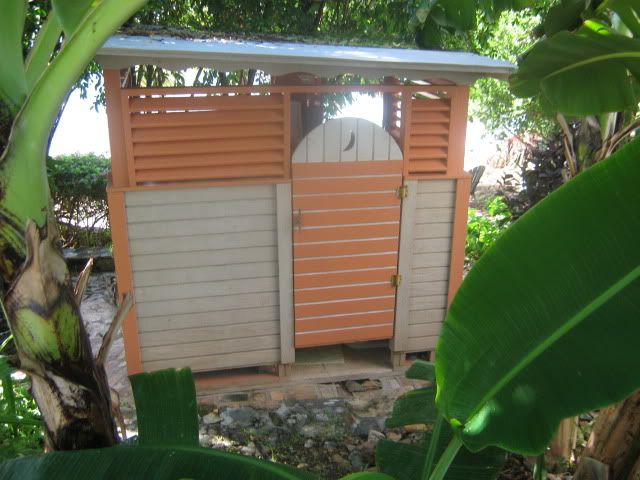 ~Private cabana bathroom~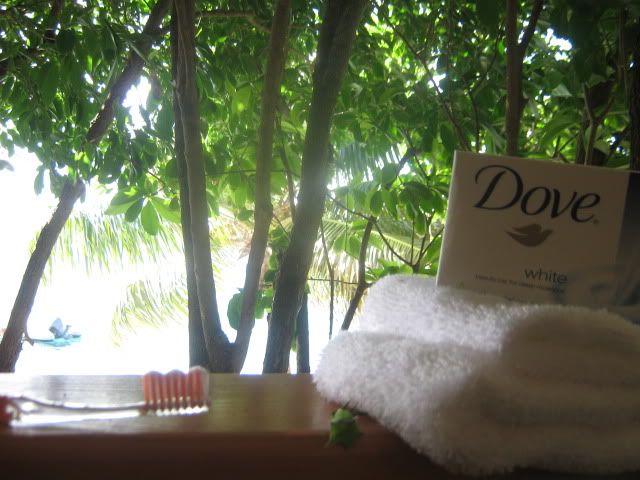 With lovely view of the ocean from the shower!
We met our caretaker named Santa who lives close by. What a sweet and quiet man that we can call anytime to take us to St. John or fetch fresh eggs from the chicken coup up the hill. After settling in, Marcy and Dan were ready to drive their truck up to the top of Lovango where they lived. (lucky ducks) We had everyone's cell #'s in case we needed anything! (AT&T cell phone coverage worked great!) As they walked down the beach to head home, we felt like teenagers who's parents just left and we had the whole place to ourselves! Ahhhh~ paradise!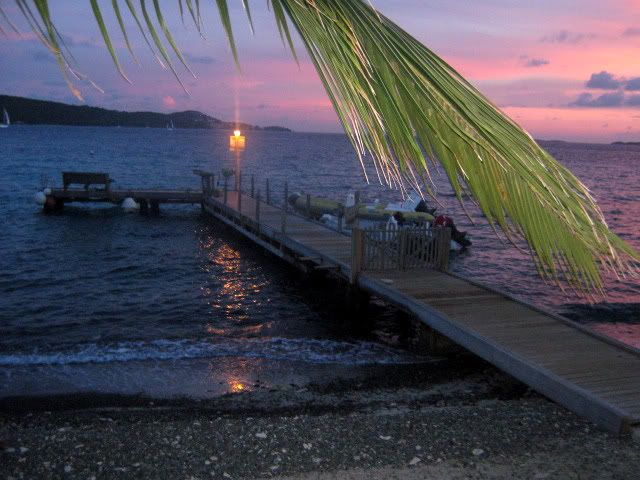 As the sun faded away and the lights around St. John started to glow, we unpacked and whipped up some garlic shrimp tortellini for dinner. YUM! Everything tastes better here! The almost full moon was coming up and the sound of the constant waves and trade winds were soothing our minds. We were ready to crash after a full day of cars, planes, taxis & boats!
Coming up: Snorkelin', chillin' & grillin' on Lovango