Oct 4~ Great day for sailing!
Today is our sailing trip with Captain Robert on his beautiful boat "Night Train." We sailed with him last year and it was the highlight of our trip!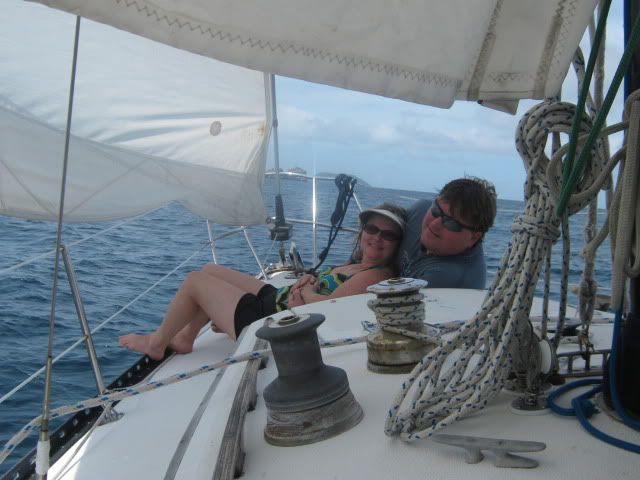 Unfortunately we got a call from the couple we met the day before saying they couldn't make it since they celebrated a little too much the night before! Fine with us! That meant more room & more rum for us~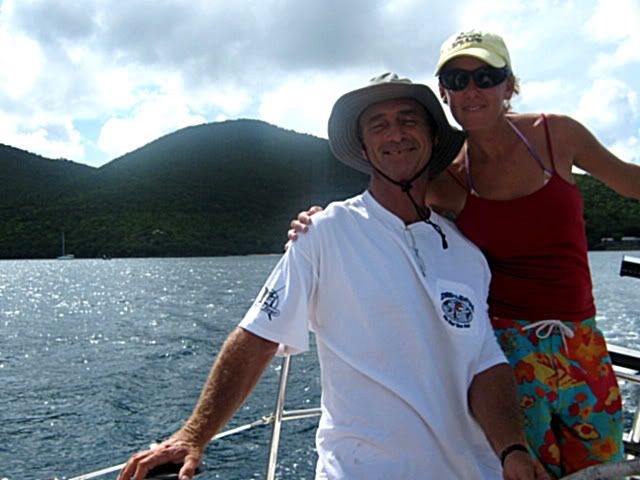 Captain Robert and his first mate Rebecca picked us up at the Lovango dock and sailed over to Henley Cay right across from Caneel Bay.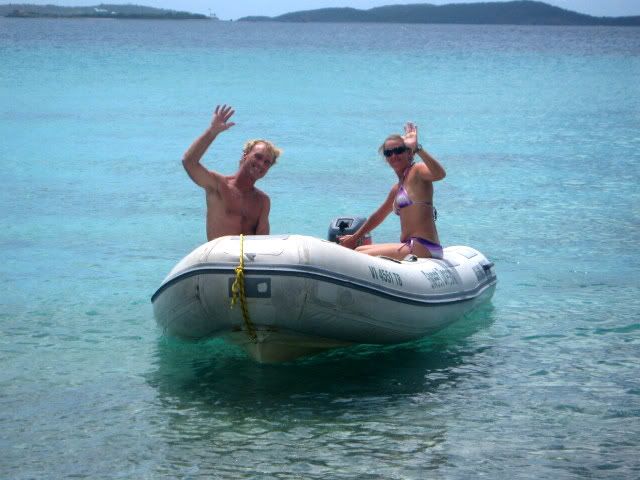 They dinghied us in with lunch supplies and set up our own little island watering hole right on the beach! No we didn't drink all that~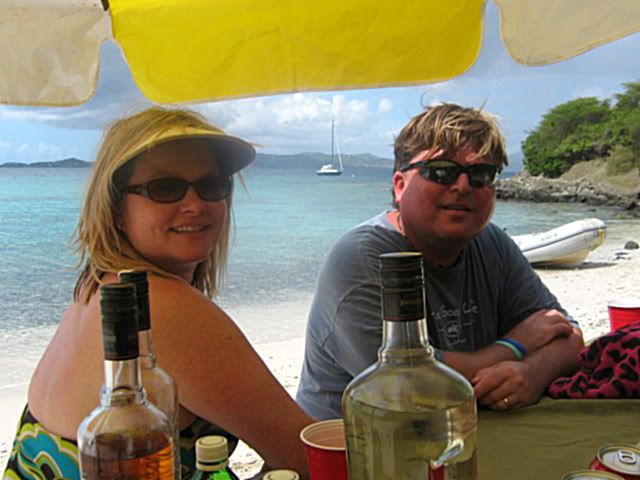 We grabbed our gear and headed out to snorkel to the right and bingo! Healthy colorful coral with schools of blue tang, yellow jacks and swarms of silver fry!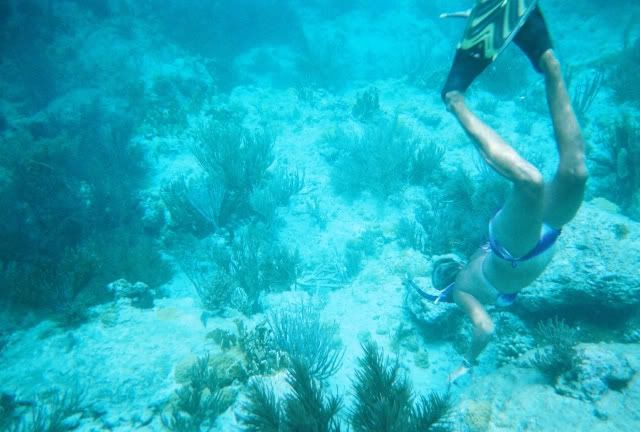 We were on the hunt for a lobster lunch but no luck~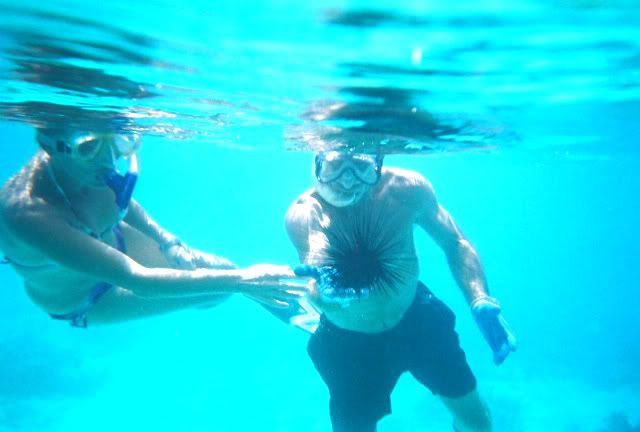 They did find this sea spider and sure enough it was crawling just like a spider!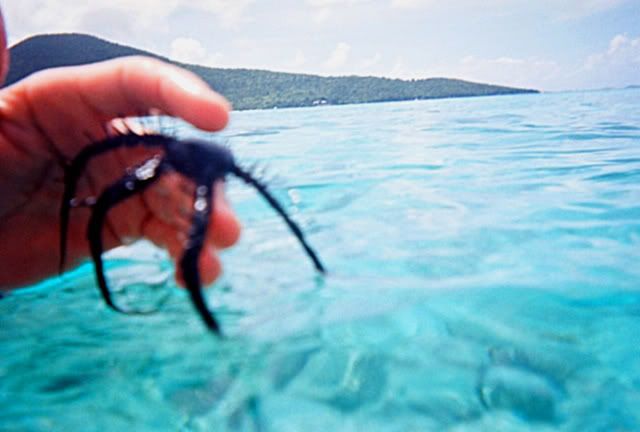 After lunch we cruised right over to Scott Beach at Caneel Bay! Not a soul to be found since they were closed. We picked up a mooring ball and jumped right in! WOW! Beautiful Elkhorn coral! (sorry these pics suck!)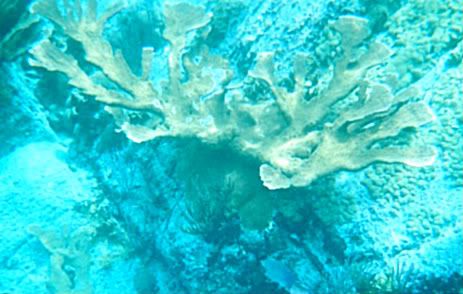 We were looking for turtles but no luck. We hung out on the deserted beach for a bit then back to the boat.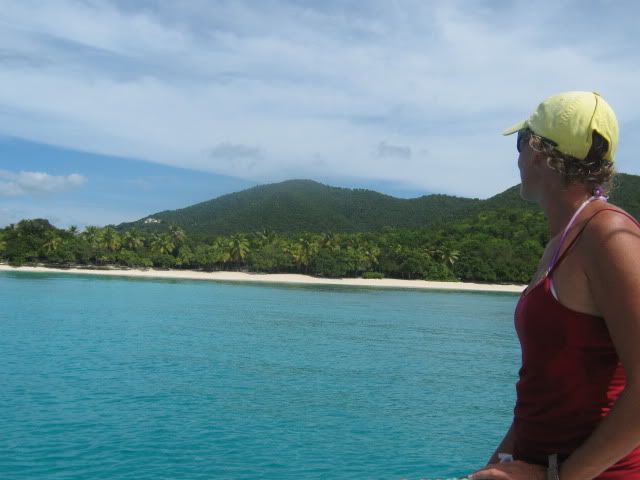 They saved the best snorkeling for last, which happened to be right behind Lovango at Congo Cay point. OMG! I have never seen such a forest full of colorful coral formations, rainbows of fish and tarpon!! Don't tell anybody about this sweet spot!! (oops):shock:
As we sailed through the cays, Rebecca showed us how to snorkel behind the boat as it was moving!! No need for fins!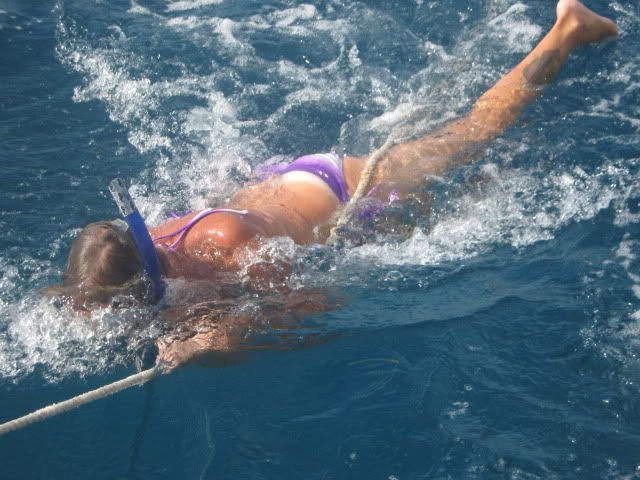 All good things must come to an end so we sailed back to St. Thomas as the sun was setting for "happy hour" (in our case, happy day!)
They brought us back to Lovango in a big dingy and we promised to come back to St. Thomas later in the week. Sure thing~
At the dock we saw Marcy and Dan talking with Captain Phil, the Wayward Sailor who is building a house on Lovango. He just returned from the states. What a great guy! He said we could go check out his house up the hill anytime.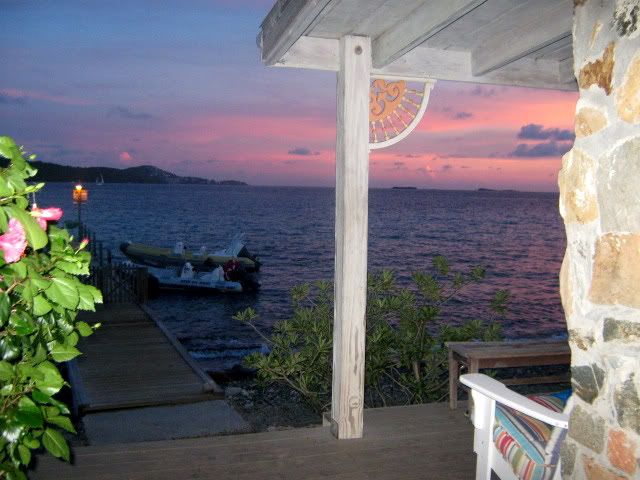 A giant full moon was rising at the end of this glorious day!! After a nice soak in the hot tub and grilled shrimp for dinner we were done!
~~~~Good night full moon~~~~