Oct. 6
Day 6 already? We are really flowing with the island time and are up as the sun is rising over the north shore of St. John.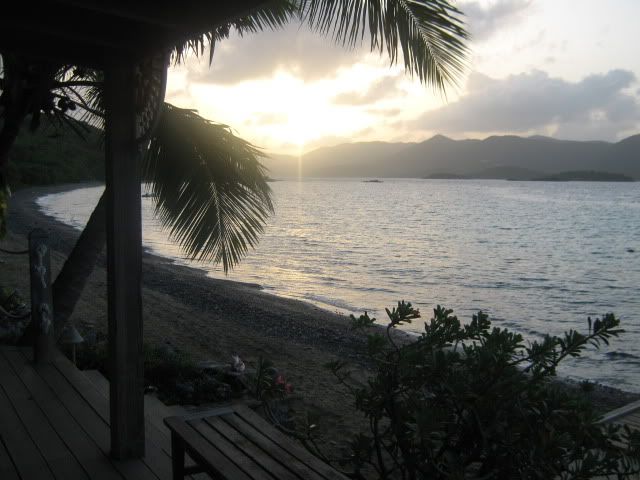 After coffee, smoothies & cheesy scrambled eggs we were off to St. John for the day. One of the first people I see right at the dock is Ruth!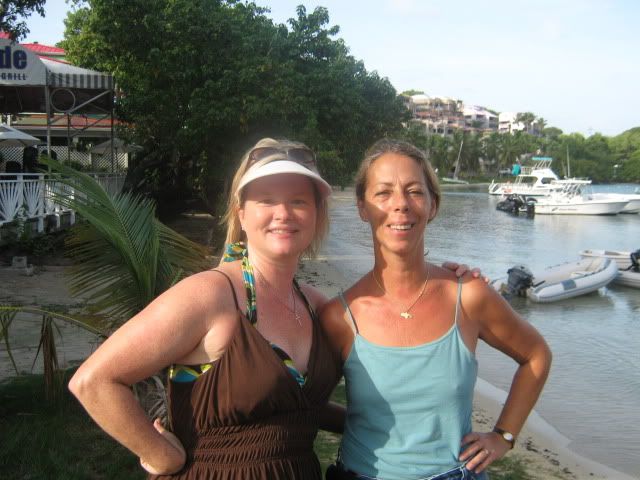 I ran over to say hello, hoping she didn't think I was some crazy stalker lady. I guess she is used to people just coming up to her all the time since she is a "forum rock star!" She seemed really excited about the building of her new home and showed us the plans of what the kitchen will look like. Very cool~
We headed up the hill to stock our cooler at Dolphin Market (just loved the 9 a.m. round-about construction)
Walked across to Courtesy Car rental to rent a car for the day and what? You are out of cars? Your kidding? It's October!
"Go to Paris Car Rental mon"
O.K.! They had a nice new car ready to go for us, just a mountain of paperwork to fill out and then we were on our way! Ahh, Centerline! Smoothie truck! Turn Left! Empty Annanberg parking lot to the trail to Waterlemon Cay. Joy!
Oh, you know how I said earlier that we have never hiked? I guess I forgot we have taken this trail before 2 years ago in the rain. So I guess it was a hike, just a flat, soggy one! Sorry~
This is actually the first time for us to snorkel around Waterlemon since 2 years ago it poured down buckets of rain and the current was really kicking up, and our 9 year old son was not a happy camper. Here's the pic to prove it!! No that's not me in the bikini!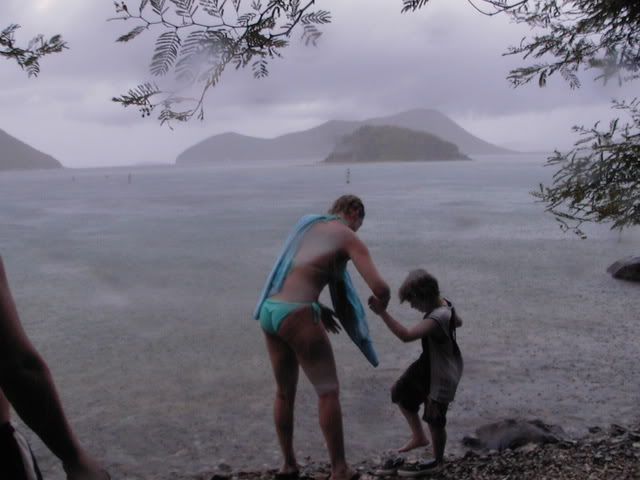 This year was soooo much better!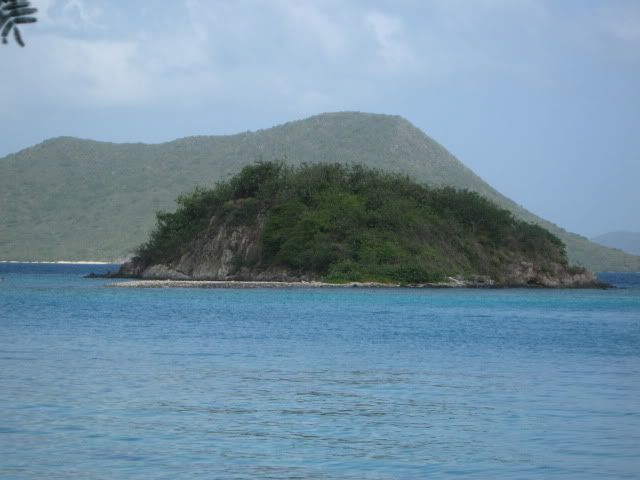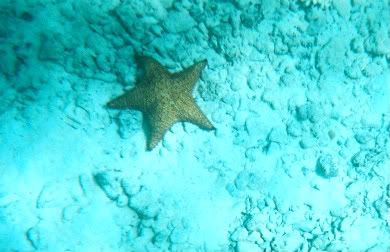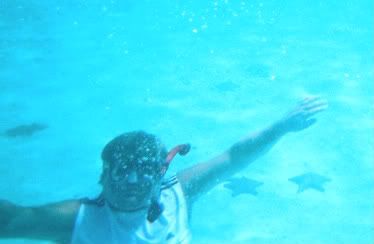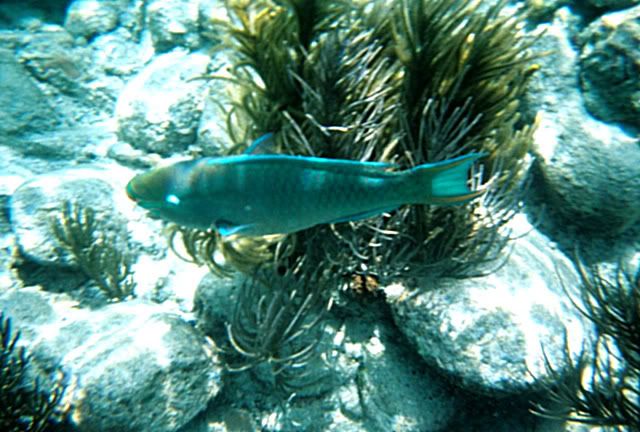 Yes, I know these pics don't win the "Liamsaunt Award"
But we had a great time seeing about 50 starfish and a big ol' stingray among the rest of the schools of fish! After the "hike" back to the car, we say hello to this guy: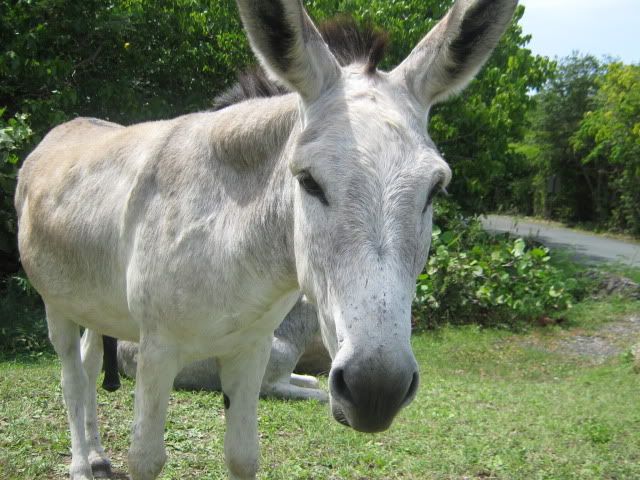 Drove over to Skinny Legs for a must have Blue Cheese burger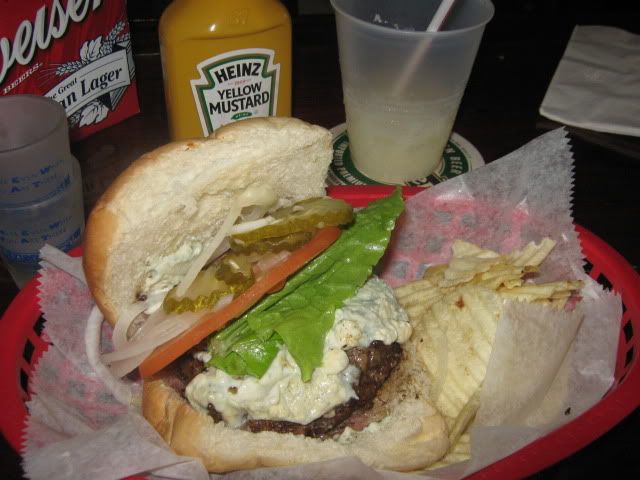 Just had to finish up at the last north shore beach we have never been to: JUMBIE! Me likey! Easy parking and down the stairs to a nice little beach with a view of Trunk Bay. We jump right in for a snorkel and what do we see but a beautiful turtle swimming so gracefully with us for about 20 minutes!
Back to Cruz Bay and over to Starfish market for steaks, gas station to top off the gas, turn in the car and our chariot was waiting for us to zoom back home.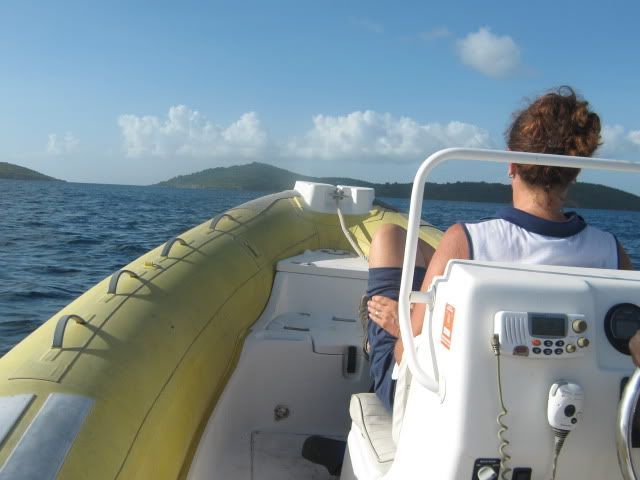 Another great day! Another great night!